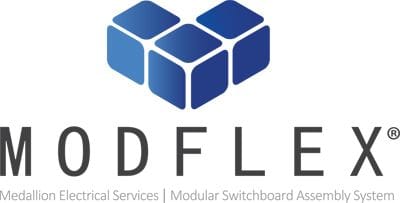 Please click here to see Modflex® in 3D
Introduction
Medallion Electrical Services manufactures a technically advanced, extremely versatile and cost effective modular style main switchboard and motor control centre system.
Assemblies can be manufactured up to 4000 amps and 380 to 480 volts, 50Hz or 60Hz capacity.
Type Test Certification
The system has been successfully type tested in accordance with Australian Standard AS 3439 and International Standard IEC 439-1:1992. Tests included;
o Classification of International Protection Rating.
o Complete Assembly and Busbar Temperature Rise.
o Segregation Classification.
o Short Circuit Withstanding Capabilities.
o Arc Fault Containment.
Engineering
The complete design and documentation for all assemblies are prepared on CAD and manufactured using CNC machinery to ensure high quality standard fit and quality control.
Cubicle Construction
The entire assembly is based on modular standard 2mm steel sheet metal pre-formed components.
The design assembly is extremely flexible and allows for the following configurations:
o Single fronted or front and back connect.
o Top and Bottom cable entry as standard.
o Single or dual main bus system for an essential or non-essential bus.
o Free standing mounting directly against a wall with full front access.
o Extension at either end of the assembly.
o Versatility to meet specific client requirements.
Standard Tier Assemblies for Stand Alone Starter Units (up to 400kw)
o Standard tier construction (800mm wide, 2175mm high).
o Full 75*60*3mm channel supporting plinth for all tiers.
o Completely segregated bus chambers.
o Separate large vertical cable chambers.
o Fully segregated main circuit breaker compartment/s.
o Modular interchangeable withdrawable motor starter functional units.
o Form 3 or Form 4 (plug in line) Modular Units
Withdrawable Tier Modules
Size 1 Up to 22 kW DOL starter or up to 250A feeder capacity
Size 2 Up to 55 kW DOL starter or up to 400A feeder capacity
Size 3 Up to 90 kW DOL starter or up to 630A feeder capacity
Size 4 Up to 160 kW DOL starter or up to 800A feeder capacity

Modules are provided with insulated and shrouded plug in switch fuse arrangement connecting to the tier dropper bus bar system.
Circuit breakers of adequate prospective fault rating can be provided with separate plug in bus connecting units to suit specific client requirements.
Switch gear layouts within modules and door mounted components are arranged to suit specific requirements.
Leading earth connection busbar and contacts are provided to ensure module earth continuity prior to module line supply engagement.
Door interlocks are provided on all modules to ensure isolation prior to extraction.
Heat Rise Test Certification
The following heat rise tests have been successfully completed at the ITAC NATA authorised testing station in Victoria, Australia.
o Built in Components.
o Terminals of External Insulated Conductors.
o Bus Bars and Connecting Conductors.
o Manual Operating Mechanisms.
o Accessible External Enclosures and Covers.
o Discreet Arrangements for Plug in Devices.
Type Test Certification Test Certificate No. 1002.
Prospective Fault Current Withstand Capacity: Consecutive tests were carried out to ensure the strength and durability of the design.o Main Vertical and Horizontal Bus Bar System to 50kA rms. 3 seconds duration
o Main Vertical and Horizontal Bus Bar System to 63kA rms. 1 second duration
o Dropper Busbar System to 50kA rms. 1 second duration
o Arc Fault Containment in Accordance with Appendix ee.Other Tests.
o Heat Rise Tests
o Verification of Form Segregation (Form 4 for Test)
o Clearance and Creepage Distances
o Dielectric Properties Before and After All Tests.
o Degree of Protection (IP54 Rating)
Click hereto contact us for more information on our Modflex® services.
MODFLEX®is powered by Streamgineer®

Create Electrical & Mechanical designs in minutes!
Streamgineer is an online tool that can effortlessly produce any
electrical and mechanical design regardless of complexity.
Includes General Arrangement, Schematic & Single Line, Bill of Materials and Quotes.